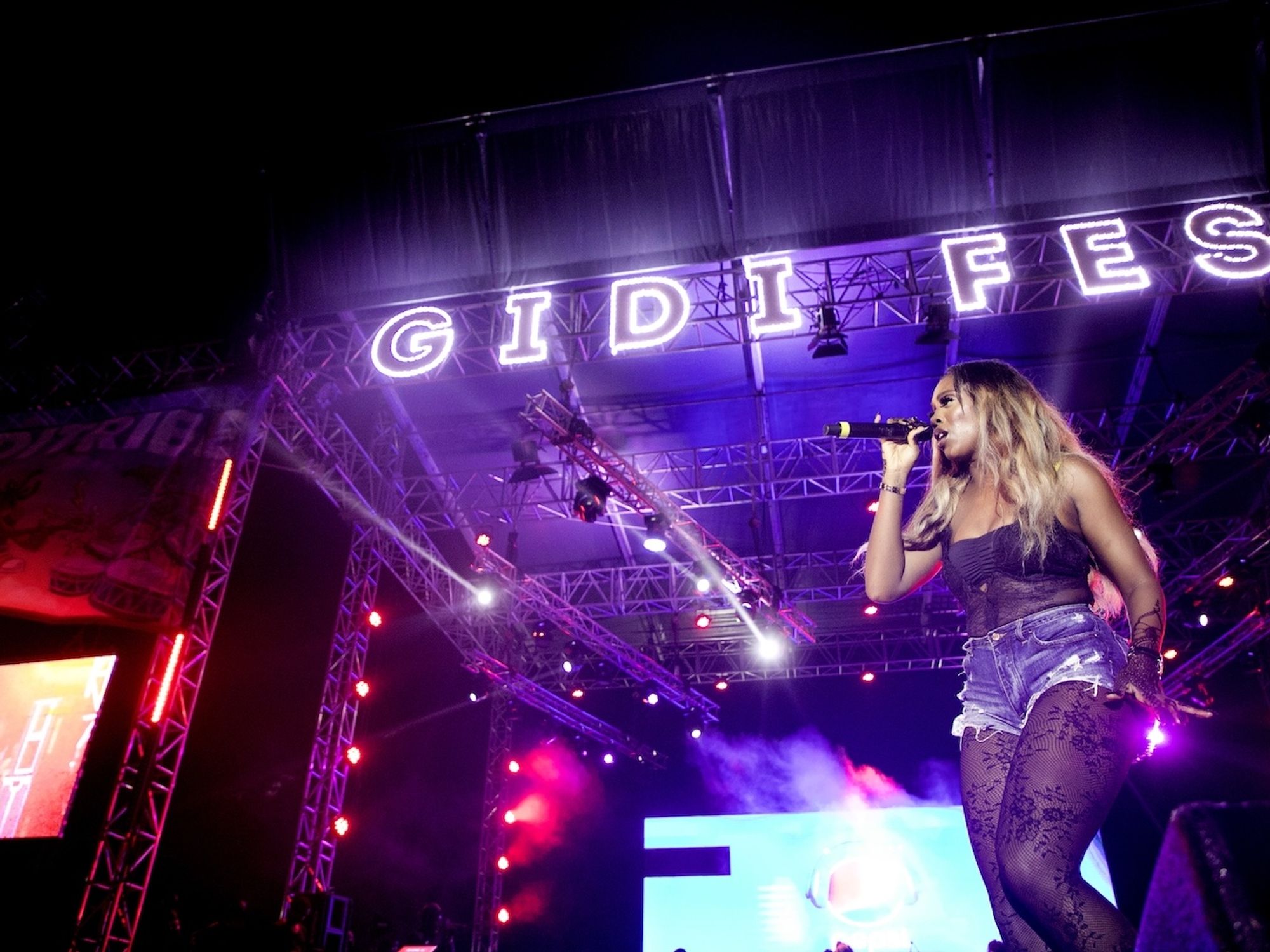 Image courtesy of Gidi Fest.
We break down what this change in climate spells for Nigeria's budding live entertainment sector, speaking with Gidi Fest's Chin Okeke.
According to Billboard, every day after April 1st that Live Nation can't put on a concert, it loses $30.3 million in revenue.
The global music industry is bowing to the gruesome effect of COVID-19 and as the recording sector has resorted to other [digital] means to stay afloat, the live sector has submitted to inactivity. Meanwhile, its players explore possible ways forward in the absence of physical gatherings. The pandemic has pressed the industry towards live-streaming, though it's sustainability, both financially and experientially has since been subjected to scrutiny. Live entertainment juggernauts like Live Nation, AEG, and others have halted core operations which have since seen a slew of furloughs and pay cuts across the sector.
What does this change in climate hold for emerging markets like Nigeria, the heart of afrobeats? The nation has since become a tourist destination, courtesy of its recorded outputs, live entertainment and culture, with attestation from global heavyweights. According to PwC, Nigeria is one of the fastest growing markets with total recorded music revenue to reach $40m in 2023.
For Afrobeats, Live performances are a major revenue source with streaming still very much in its infancy. Spotify is yet to launch, Apple Music, Youtube Music and Deezer are however available in the region valued at N900, which is an equivalent of $2.99. Hence, the bulk of its players' revenue hinges on concerts, festivals and international tours.
Image courtesy of Gidi Fest.
Going by the current state of the climate, We spoke to Chin Okeke, co-founder and executive director of Eclipse Live. Eclipse Live are the organizers of Gidi Fest, one of West Africa's biggest music festival which attracts attendees in droves locally and internationally.
Gidi Fest, which typically occurs in April each year, has been postponed for the first time ever until October. In this interview, Okeke divulged the dreary impact of quarantine in the live sector of the emerging market, the possible change in consumer behavior it'll be met with post COVID-19, the state of festival insurance in Nigeria, virtual events being a sustainable revenue source for the music industry and more.
How have you been keeping busy in isolation?
Getting on with it, really. There are a couple personal projects that I've had time to now focus on more. Obviously, with Gidi Fest being the primary project for the year. The decision to move that to October was a long process, from the first case in Nigeria on February 27 to the date we announced the postponement. Even after we announced the postponement, there were still a few more weeks of further discussions with stakeholders, from talent to vendors, managing relationships, to make sure we were all on the same page.
Do you think this pandemic will see a change in consumer behavior towards live events moving forward?
Of course, certain stigmas around coming together will be there for a while but I think as people become more comfortable and as we build immunity towards the virus, you'll find a lot of people wanting live shows more than ever before. I think the way we approach hygiene will change immediately. As much as there's a lot of virtual events happening online, one thing that's become clear to me is that there's no substitute or replacement for the live experience, only a short term alternative—a sustainable one anyway. There's just nothing like it. One of the things that reminds me of why I do this, is that very few things give me as much joy as seeing people come together, uniting through live music.
However, I think one of the major factors that'll change is cost. Consumer behavior will change especially in terms of what they spend their money on. As disposable income reduces, live music will become less of a priority for many and therefore the industry will have to review pricing to be more affordable—meaning everyone else in the value chain will also have to take a hit, from artists to production companies.
The live music business is an integral part of the industry and generates more income for our artists than recording. The role touring plays in growing your fanbase and promoting music is irreplaceable so it's not going anywhere. There's no doubt the dynamics will change, so will the economics and the culture around the live experience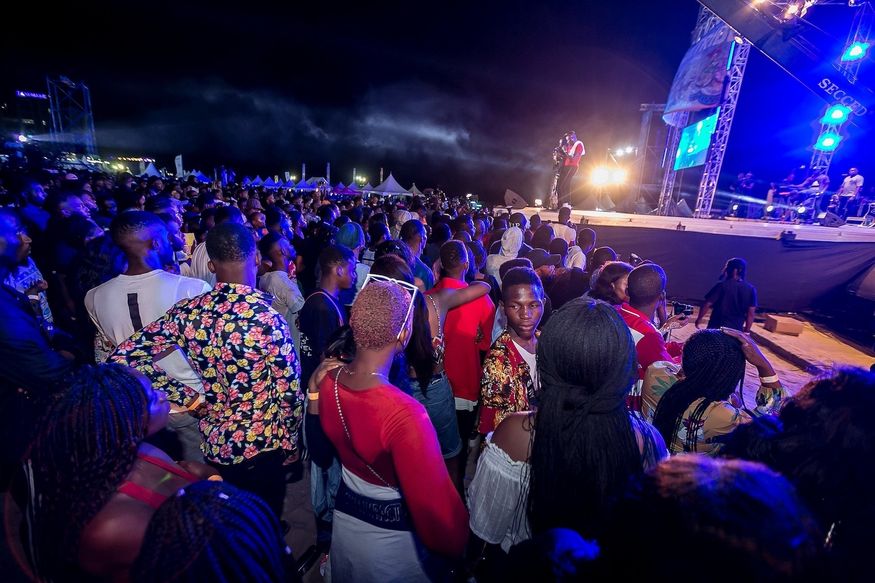 Image courtesy of Gidi Fest.
Does that give you concern regarding the forthcoming festival taking attendance, cost and revenue into consideration?
It's always a concern but one of the things we at Eclipse Live do well is being flexible to the environment and circumstances. Luckily, this would be our seventh year, so the stakeholders that we work with are understanding and cooperative. Initially, we had set out to do a 3-day festival this year, but realistically, I don't think that'll be the case in October. We have to scale down and adapt to the circumstances, slightly re-working our original plan.
Live-streaming, specially via Instagram has become the bread and butter of the industry this period. If the pandemic lingers, how do you think the industry can harness virtual events as a true secondary revenue source, as opposed to being a mere promo activity?
Bread and butter as far as engaging audiences but in general not economically beneficial. Depending on the type of event, virtual can be an alternative during the pandemic. As a revenue source, i don't believe there are more than a handful of artists or events that would generate comparable revenue to the physical event.
Is this peculiar to the Nigerian music industry or worldwide?
I would say worldwide, actually. Streaming has been available for years, monetizing it has been predominantly driven by brands. I mean, pay per view/stream is available online, but the question is: the concert you're offering online, is it comparative enough to the real experience to be able to charge for it and if so, to who and how much?
Event companies are taking to other means of staying active this period. Some have taken to digitizing their assets, premiering past footage on video streaming platforms. What is Eclipse Live putting in place to stay engaged ahead of the new date?
For us we've decided to focus on collaborating with talent from #gidifest2020. So far we have weekly dance workouts with Zinarts Agency on IG Live, interviews with artists when they are releasing music and a DJ series, Back 2 Back. All centered around our 2020 theme this year, which also is in line with the stay home narrative—Bringing it Home.
The most exciting project though, is a Gidi Fest collaboration with Naira Marley on May 30 to celebrate Marlian Day. Eclipse Live will produce a Live Stream Concert on YouTube headlined by Naira Marley with an aim to uplift and celebrate our resilience through these difficult times. We will also use the opportunity to promote awareness for COVID-19. Naira Marley is billed to headline Gidi Fest 2020, not just because he is one of the most influential artists in pop culture today but also because Marlians and The Gidi Tribe have a lot in common. They are the new African generation who refuse to take "no" for an answer, challenging the status quo.
Some say live concerts may not return until 2021. What do you make of that?
One thing to note about the COVID-19 situation is that the crisis is unique to each territory depending on its impact, government decisions, the people, etc. I don't think that'll apply to every region, however for us, it's really just taking it in our stride—probably six months at a time. I however remain optimistic and hope that we see a return by Q4 2020. The safety and lives of people are our number one priority and we will continue to follow the lead of those who have the expertise and authority to guide us moving forward.
If Gidi Fest goes on in October, what precautionary measures are you looking to implement?
We will be adhering to the guidance the authorities issue with regards to public gatherings, adjusting accordingly. We've been very alert and hands-on with the coronavirus situation. After the index case in Nigeria was reported, we immediately engaged The Nigeria Centre for Disease Control (NCDC) to seek advice on how to make our event safe. We had implemented hand-washing stations, automatic hand sanitizers around the venue and with the help of NCDC and the Ministry of Health also doing temperature checking at the entrances. These preventative measures will be permanent fixtures at Eclipse Live events and productions moving forward. We will take advice from health authorities and make decisions based on the safety and security of people as well as ensuring that the outcome is positive.
What's the state of Gidi Fest regarding festival insurance?
In Nigeria we don't have special insurance for events but we have standard insurance coverage . When it comes to cancellations, there is no such coverage in Nigeria, but I know based on my peers globally, it's a huge challenge because a lot of promoters don't have pandemic cover. A look at the difference between postponements, cancellations and new dates, you'll realize why some event companies are late to make public comments because they are waiting for the government to make their own statement, which can aid insurance claims.
So, when people are talking about wanting refunds, I get it and it's important that you communicate the right way to your customers but it's also important to know there's a lot of factors at play, especially when it comes to insurance. Companies are losing billions of dollars, cancelling hundreds of tours. It's tough, and I think we may need to be a bit considerate and empathetic about how everyone is trying to navigate this as nobody has experienced anything like this, not the government, experts, people or business owners.
Looking at the state of things presently, what would you advice a younger Nigerian promoter about festival insurance?
Make sure you take out standard insurance coverage for all events. For some areas that are not covered by these, your best bet is your relationships. Ensure that your relationships are clear, black and white, and in a contract. In situations like this I've found that our relationships and understanding with our stakeholders has done more for us than insurance coverage.
What cost-cutting initiative has Eclipse Live implemented to better manage workforce and overhead this period?
Just before the lockdown, we had already implemented working from home and as a team adapted quickly to this new way of working. Personally, I've forfeited the next three months of my salary. We're basically taking it month-by-month.
What business model do you see taking center stage in the Live Sector Post COVID-19?
I won't say what I think you'll see but you'll inevitably see a plethora of new ideas. One of the things that excites me about crises like this is the opportunity to think differently and outside the box. These restrictions are definitely going to drive a new way of thinking, which is great within the sector that has felt one-dimensional for a while. Health & Safety will definitely be an area of grave interest as this is likely to be a defining factor in people returning to live events. While some people are having downtime now, there are people cooking up how they're going to come out on the other side of this, better for it.
Can you tell us a potential model you see coming to being?
How much are you paying for that? [Laughs]
Has COVID-19 hit you with any epiphanies about the live business?
One thing this situation has me confident about, is that the Live experience and the business is here to stay.